Every one of us who has ever owned a computer might be aware of the repairs and issues that happen during usage. A personal or business computer undergoes several repairs during its usage period due to issues with the components and peripherals of the device. This is indeed a headache for most of us, as computers have now become an indispensable part of life. A computer can malfunction due to an issue with any of its crucial hardware components such as a motherboard, power supply, hard drives, etc.
Moreover, issues with the peripherals such as a keyboard, mouse etc. can also render a computer impossible to operate and thereby cause disruption in our personal or business usages. In such scenarios, users might turn to a computer repair service to resolve the issues with their personal or business computers. In view of the growth of computers, the computer repair industry has become a dominant player alongside information technology. Presently, computer repair has shifted from its traditional means to using the internet to carry out repairs, popularly known as online computer repair.
Computer Repair Industry
The computer repair industry is mainly centered on local repair shops and online computer repair businesses. Users with a malfunctioning computer can rely on the expert services offered by them and get the issues fixed either by repairs or by replacement of defective components with spares offered by quality manufacturers. The exponential increase in the usage of computers for both personal and business uses has led to the increased demand for computer repair services
Figure 1. Computer Usage In Homes and Businesses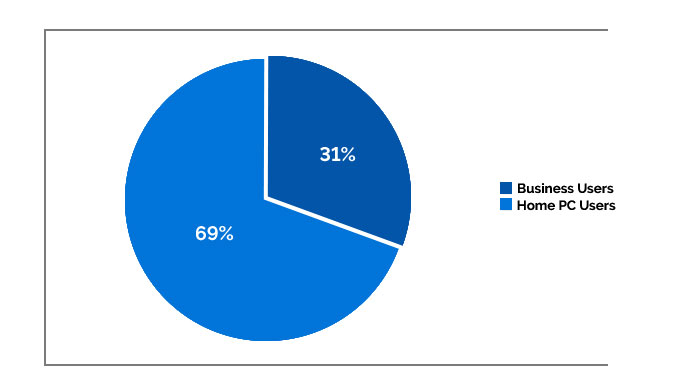 The above pie chart gives us details regarding the usage of computers in homes and businesses. Home computer users accounts for about 69 percent of usage whereas business users occupies about 31 percent. This brings to light the importance of repair and maintenance service for computer users of both the categories.
Computer repair industry these days involve various aspects other than just maintenance and repair. Working alongside this industry are the manufacturers of computer components and peripherals. This has boosted the repair industry much, as it helped them in the quick resolution of issues by replacing the appropriate component or peripheral device.
Besides, offering general repair and maintenance of computers, the repair services also offer network support and diagnostics. The scope of network support services is more considering the present scenario of increased internet usage. Network support in computer repair industry involves resolving issues with the home or LAN networks along with network security.
Decline of Traditional Computer Repair
The conventional computer repair industry is facing a slow decline as more and more users are shifting to other options like online repair and service. The following graph will better illustrate the slow decline in traditional computer repair services due to the increasing popularity of remote computer repair services.
Figure 2. Decrease in Traditional Computer Repair Services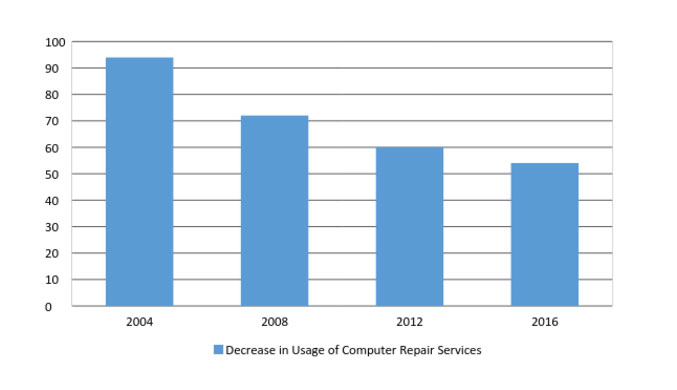 The above graph gives us details about the decreasing popularity of traditional computer repair services. The year 2004 represented the highest value, which has considerably decreased in the following years with the year 2016 witnessing a steep decline in traditional computer repair services.
The Emergence of Online Computer Repair
Online computer repair is essentially the process by which the repair and maintenance of a computer is carried out by a technician from a remote location via the internet. When we look into the traditional and online ways of computer repair, we can find that repairing a computer online only differs by the usage of internet for carrying out the repair.
Various tools are available that will enable a professional technician to carry out software level repairs on any computer located anywhere in the world. Besides repairing the software issues, online repair also helps in diagnosing and resolving issues with the network and peripherals.
Remote repair and servicing of computers are very common these days, as it tends to be a more cost efficient and effective method of resolving issues. Relying on an online computer repair service is beneficial for both business and home computer users. Some of these benefits are:
Cost Effective – The traditional method of computer repair involves taking the computer to the service center or bringing the technician to your home or office. This is a costlier and time-consuming way when compared to online computer repair. Online repair is a cost effective method, as it does not involve transportation and storage charges.
Faster – Online computer repair is a much faster method than the traditional computer repair services. The process of repair is much faster and efficient as the technician works using the online medium. Another added advantage is that you can sit back and watch the steps done by the online technician to repair your computer.
Reliable – Using remote computer repair is a much reliable way than the traditional way of repair. This is because the technicians in online repairing service are better versed about the various issues that are related to personal and business computers. Their expertise in computers can guarantee you satisfactory results.